News from ECSA - March edition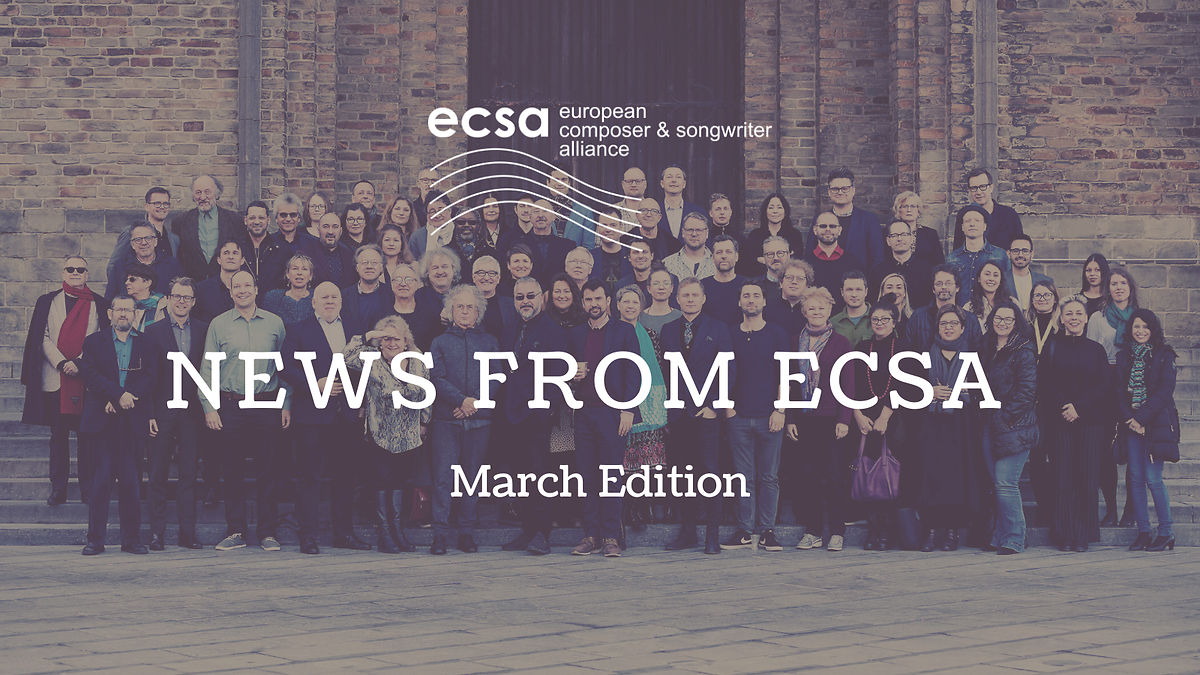 15 Years of ECSA!
This month we celebrated the past 15 years of our Alliance! A heartfelt thank you to all our members, our allies and partners, and all our friends in Europe and all over the world for being part of the alliance's accomplishments and successes. We are ready to continue defending and promoting the rights of composers, songwriters, and lyricists in Europe and beyond!
See here a small recollection of ECSA's greatest achievements by our honorary President: Alfons Karabuda.
ADVOCACY
Open Letter - Music creators united with Ukraine
In the light of recent events, ECSA wrote an open letter to call upon music creators, musicians, the global music industry, and cultural organisations to stand united in calling for peace, cut financial ties with the Russian state and its associates, and make every effort to support the Ukrainian people. Music has the power to unite like no other force on the planet. ECSA takes this opportunity to remind ourselves and everyone that our freedoms are precious and powerful, and they must be protected with vigilance. We thank all the individuals and organisations that signed our open letter. Read the letter here.
CISAC Initiatives for Ukraine #SongsforUkraine
In March CISAC launched "Creators for Ukraine", a global initiative to raise money for victims of the war in Ukraine, mobilise support from creators worldwide and promote Ukrainian culture. Creators and organisations representing all creative repertoires were asked to support the global campaign that was launched in partnership with their - more than - 220 member societies across the world. The website lists: an international support fund, a Songs for Ukraine initiative with three playlists, and an open letter for creators. We encourage our members to participate and share these initiatives widely.

ECSA President at IMPF panel in Portugal
On 25th March our President Helienne Lindvall joined the Independent Music Publishers International Forum (IMPF) - Summit in Lisbon. In a keynote address, the ECSA President talked of collaborating with IMPF under the Creative Europe funding framework. Helienne said: "The goal is to work together to build a career. There is much appreciation from songwriters, especially for independent publishers, with whom we currently share a lot of common issues." We look forward to collaborating and continuing dialogue with the IMPF and other key stakeholders in the music industry to ensure effective relationships with our counterpart organisations.
European Parliament question to the European Commission on buy-outs
On 25th March, MEPs in the Cultural Creators Friendship Group (CCFG) posed a question for a written answer to the European Commission regarding buy-out contracts and the appropriate and fair remuneration for the use of an author's creative work. This question aims to seek a response from the Commission regarding measures to counteract the coercive market practices of non-EU based Video-on-Demand (VoD) platforms. As underlined in the ECSA report on buy-out contracts, such platforms too often impose "work-for-hire" or "buy-out" contracts on composers and songwriters.

The members of CCFG who drafted the question include Iban García del Blanco (S&D), Tomasz Frankowski (PPE), Alexis Georgoulis (The Left), Giorgos Georgiou (The Left), Hannes Heide (S&D), Irena Joveva (Renew), Niyazi Kızılyürek (The Left), Marcos Ros Sempere (S&D), Andrey Slabakov (ECR). ECSA very much welcomes this question and thanks all those MEPs for raising this critical issue for the fair and proportionate remuneration of music authors.
CULTURAL ACTIVITIES
Call for nominations - 2022 edition of the Camille Awards
The call for nominations for the 2022 edition of the CamilleAwards - European Film Composer Awards is currently open! All ECSA organisations representing media composers are eligible to submit one nomination for the following categories.
1. Best Original Film Score
2. Best Original Music for a Drama Series
3. Best Original Score for a Feature Documentary
We are looking forward to receiving a variety of nominations from all over the ECSA network! For more information visit: camilleawards.eu
MEMBER'S NEWS
International Women's Day 2022
This year's International Women's Day theme was #BreakTheBias. We celebrated this day by presenting quotes on our Instagram account from women in the ECSA member organisations based on their experiences in the music industry. The #BreakTheBias theme encouraged and celebrated women's achievements while also pressing to raise awareness against bias. ECSA has also been also working towards a gender-balanced music industry with the Keychange pledge. Find out more about how to take action here.
SHIFT Eco-Guidelines
The SHIFT Eco-Guidelines for Networks recognise and address the ecological footprint associated with operating international cultural networks and platform organisations. The guidelines serve as a reference document for network organisations that aim to minimise their footprint, optimise environmentally sustainable practices, and act as an example of good practice for their members and other networks. The SHIFT Eco-Guidelines are part of the environmental sustainability strand of the SHIFT project (co-developed by 9 cultural networks). The work on these guidelines was led by ELIA – a globally connected network for higher arts education. Check them out here.
1st Dutch Composers Day
On Saturday the 18th of January, New Music NOW will launch the first Dutch Composers Day. It is intended to be a day to celebrate new music from Dutch composers. The compositions will be heard throughout the country and will be streamed all day by New Music NOW. Dozens of venues, 9 festivals, and 25 ensembles from different regions will participate in the Dutch Composers Day. On New Music Now, the online festival hub, you can find the timetable for the wide range of programmes that take place throughout the country. More information can be found here: https://newmusicnow.nl/dag-van-de-componist
Classical NEXT Panel on Fair Practice
From 17th to 20th May 2022, Classical:NEXT will welcome the global art music community to Hannover and turn the heart of Germany into a vibrant music hub. It's also Classical:NEXT's 10th anniversary that makes this year's edition special! On the Classical:NEXT Conference Programme, there is also a panel on "Fair Practice in today's music: the effects and consequences on diversity and cultural development". Various experts from ECSA member organisations will join the exchange. The conversation will be chaired by Anne La Berge (the USA/The Netherlands), artist & educator, Nieuw Geneco, and will feature Sine Tofte Hannibal (Denmark), general manager, Danish Composers Society, and Jørgen Karlstrøm (Norway), executive chairman, Norwegian Society of Composers. Find out more about the programme here:
www.classicalnext.com/programme/conference
WHAT ELSE?
FAME's Institute - Call for Musicians
FAME'S Institute opens a European Creative Orchestral Program for highly skilled young musicians in the field of orchestral music. The program focuses on giving the opportunity to participate in various orchestral practices, exploring new repertoires and performances styles within the FAME'S Project, a dedicated studio for orchestral music recordings. The program is offering a highly professional level of training, practicing, mentoring, and performing, through new methodologies and technologies based on all involved partners' experience. The program is a Fully Funded Scholarship supported by Creative Europe and will take place from 6th to 28th July 2022. Applications are open until 30th April 2022. As a project partner, ECSA invites and encourages its members to forward this call and information to musicians between 18 – 25 years old.
For more details about the application process, visit the dedicated website.
Spot the composer at the Cannes Film Festival
Spot the Composer connects film music composers with feature-length film directors and producers. This year, Spot the Composer will introduce 10 hand-picked international film music composers to feature-length film directors and producers in Cannes, focusing on projects in development or in production. Selected film music composers will attend one-on-one meetings with feature-length film directors or producers selected by the Marché du Film and its partners, as well as thematic cocktails. Applicants must submit both a filmography and a playlist and, where possible, a showreel. Spot the Composer is organised with the support of SACEM. Apply for Spot the Composer here! The application deadline is 10 April.
The Society of Composers & Lyricists (SCL) Awards
The winners for the 3rd Annual SCL awards have been announced! Various composers were respectively awarded in various categories: "Outstanding Original Score for a Studio Film" (Germaine France, Encanto), "Outstanding Original Score for an Independent Film"(Daniel Hart, The Green Knight), "Outstanding Original Score for a Television Production" (Cristobal Tapia de Veer, The White Lotus), "Outstanding Original Score for a Dramatic or Documentary Visual Media Production" (Billie Eilish, Finneas O'Connell, "No Time to Die" from No Time to Die), "Outstanding Original Score for a Comedy or Musical Visual Media Production" (Nicholas Britell, Ariana Grande, Scott Mescudi, Taura Stinson, "Just Look Up" from Don't Look Up), "Outstanding Original Score for Interactive Media" (Hildur Guðnadóttir, Sam Slater, Battlefield 2042). Check out more details about the awards here. Congratulations to all the winners!
International Film Music Competition - Zürich
The Zurich Film Festival and the Tonhalle-Gesellschaft Zürich AG in collaboration with the Forum Filmmusik organise the International Film Music Competition, every year. Internationally renowned music professionals and filmmakers will be part of a jury which will nominate three works from the competition entries that will then be premiered before a winner is awarded a cash prize and the Golden Eye award for "Best International Film Music 2022". For this year's edition of the competition participants are required to score the award-winning short film: The Foundling by Barney Cokeliss. Submissions are open from 11th of April 2022 and the deadline to apply is the 6th of June 2022. Find out more here: https://industry.zff.com/en/programme/film-music-competition/
Nordic Film Music Days 365
NFMD 365 is an initiative launched as part of the Nordic Film Music Days that presents online seminars all year round. The purpose of these seminars is to continuously put a spotlight on Nordic Films and media music, the craft, and the artists. Various and varied topics such as soundtracks, the workflows in the production of music for films, contracts, and rights, etc. are presented in these information-rich seminars. This year NFMD 365 presented a seminar on the 17th of March titled "Texture and melody: Trend Sounds in Contemporary Film Music." Link to the seminar: https://youtu.be/EbAXgZMEBx4
In case you missed the other seminars, the possibility to (re)watch them is available through this link: http://www.nordicfilmmusicdays.com/2022-what-happened.html