News from ECSA: March 2023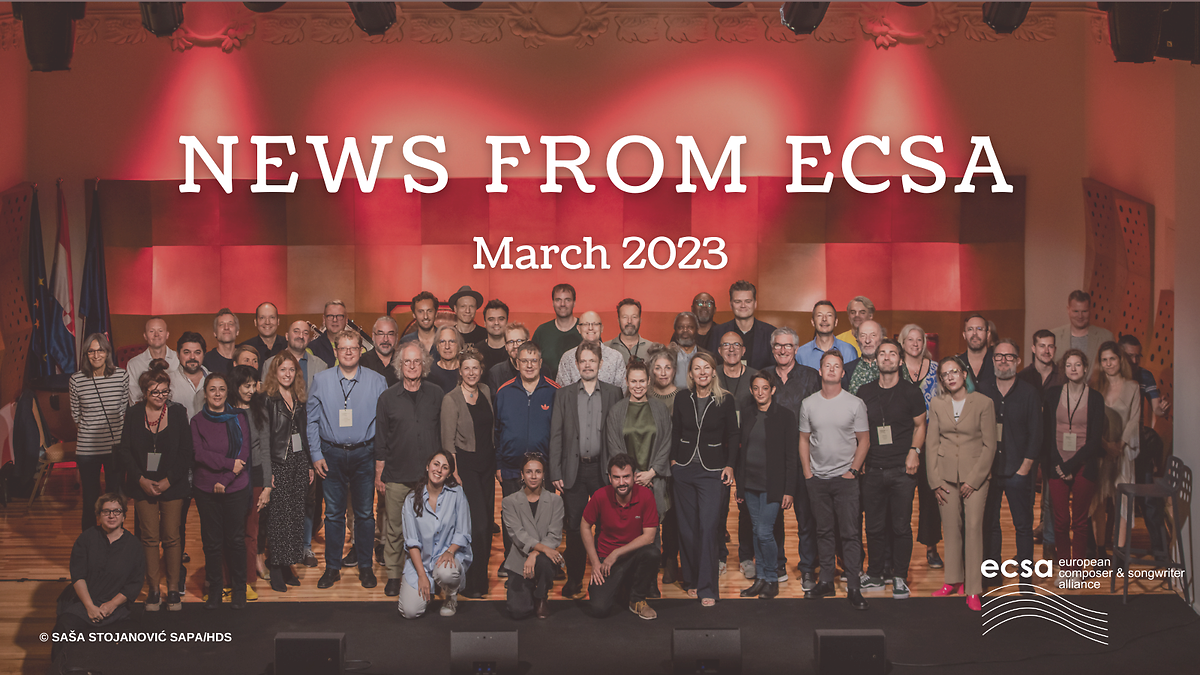 Advocacy
2023 Creators Conference: ECSA calls on the EU to put fairness for creators and sustainability of the music sector at the heart of its policies
© Gleamlight
On 21 March, the 2023 Creators Conference took place in Cinema Palace, Brussels. More than 150 creators, EU policy makers and stakeholders from the music sector gathered for various panels and discussions on music streaming, buy-out contracts, artificial intelligence, and the EU strategy for the music sector. ECSA warmly thanks all the speakers, sponsors and attendees for making the Creators Conference such a huge success. Please find the press release here and watch the recording of the whole conference below.
© Emmanuel Berrod
ECSA President tackles challenges of music streaming for composers and songwriters at WIPO
On 16 March, ECSA President Helienne Lindvall represented ECSA at the World Intellectual Property Organization (WIPO) information session on the music streaming market. During the panel on the distribution of streaming services, she spoke about the issues that music streaming raises for creators, and about the importance of music metadata. She also elaborated on how legislators can improve transparency in music streaming. Find the recording of the session here.
ECSA supports human creativity: launch of Human Artistry Campaign
With the rise of artificial intelligence (AI), the landscape of human artistry is rapidly changing. ECSA strongly supports human creation and thus joins the recently launched Human Artistry Campaign, which strives to ensure that AI can never replace human expression and artistry. Numerous organisations and policy makers have joined the campaign and urge supporters to sign the petition to draw more attention to the fundamental principles on the use of AI.
© EUIPO
ECSA at International IP Enforcement Summit
This year's edition of the International IP Enforcement Summit is taking place on 14-15 June in Sofia, Bulgaria. The summit will bring together key European and international decision-makers, law enforcement authorities, multinational companies, SMEs, consumer representatives, and other relevant players to discuss ways to improve protection and enforcement of IP rights in the EU and around the globe. ECSA will be represented by Board Member Ole Henrik Antonsen, who will be a panellist in the third breakout session on "raising IP awareness".

ECSA condemns Meta's decision to exclude SIAE's repertoire from platforms
Earlier this month, the Italian Society of Authors and Publishers (SIAE) announced that its members' works will be excluded from the platforms of Meta after a licensing dispute. Meta's most recent licence, which is needed in order to include songs and recordings in videos uploaded by its users, expired at the start of the year and negotiations to renew it have failed. ECSA strongly condemns Meta's decision to force SIAE to sign a unilateral proposal that ignores the value of music, and urges Meta to change its coercive and dishonest behaviour.
Cultural activities
International Film Music Competition at Zurich Film Festival
On 3 April, admissions for the International Film Music Competition of Zurich Film Festival open to composers. Those who are eligible are invited to work on the score for the symphony orchestra for the short film "AU REVOIR JERÔME!". The jury will nominate three works, which will be played by the Tonhalle Orchestra on 30 September in Zurich. The winner will be selected and awarded on the same evening.
Last call for applications: Spot the Composer program
The 4th edition of "Spot the Composer" is taking place between 19-21 May in Cannes, France. The program is part of the Marché du Film, supported by SACEM, and aims to connect professional film composers with film directors and producers by organising numerous networking events. Selected composers will be invited to one-on-one meetings, designed to match them up with film projects. Applications for composers are open until 2 April.
Members news
ECSA Session
On 22-23 March, ECSA held its winter session, gathering many of its members in Brussels. The Unified Session, Committee's meetings, Learning Lounge and General Assembly have allowed us to discuss key topics such as music streaming, buy-out contracts, fair remuneration of music creators, and challenges raised by new technologies. We are grateful to our members for joining us and we look forward to seeing everyone again during our next session!
What else?
Enhancing gender equality in music: kick-off meeting ECSA-AEC Mentorship Programme
© Diego Mitrugno
The ECSA-AEC Mentorship Programme has kicked-off on 21 March. The programme, developed by ECSA and European Association of Conservatoires (AEC), connects young female (identifying) composers and songwriters with music role models. The aim is to enhance gender equality within the music industry. The six mentors and six mentees met in Brussels to start off the programme. We wish them a fruitful collaboration!
Research on current learning offers in support of the European Cultural and Creative Sector
The European Institute of Innovation & Technology (EIT) is conducting a study on the current learning offers in support of the European Cultural and Creative Sector. This research is intended to point out missing aspects and offer potential solutions for future learning challenges. If you would like to contribute, please take part in this mapping survey on existing learning programmes in the cultural and creative industries.
Academic treble choir Florakören announces a competition for choral composition
Academic treble choir Florakören has announced a competition for choral compositions in the light of their 80-year jubilee, with the goal of expanding treble choir repertoire. Selected musical compositions will be featured in the jubilee concert, which takes place in spring 2024. The competition is open until 30 June 2023.