Open Call: "Film Music Business Career Mentoring for European Film Composers" 2023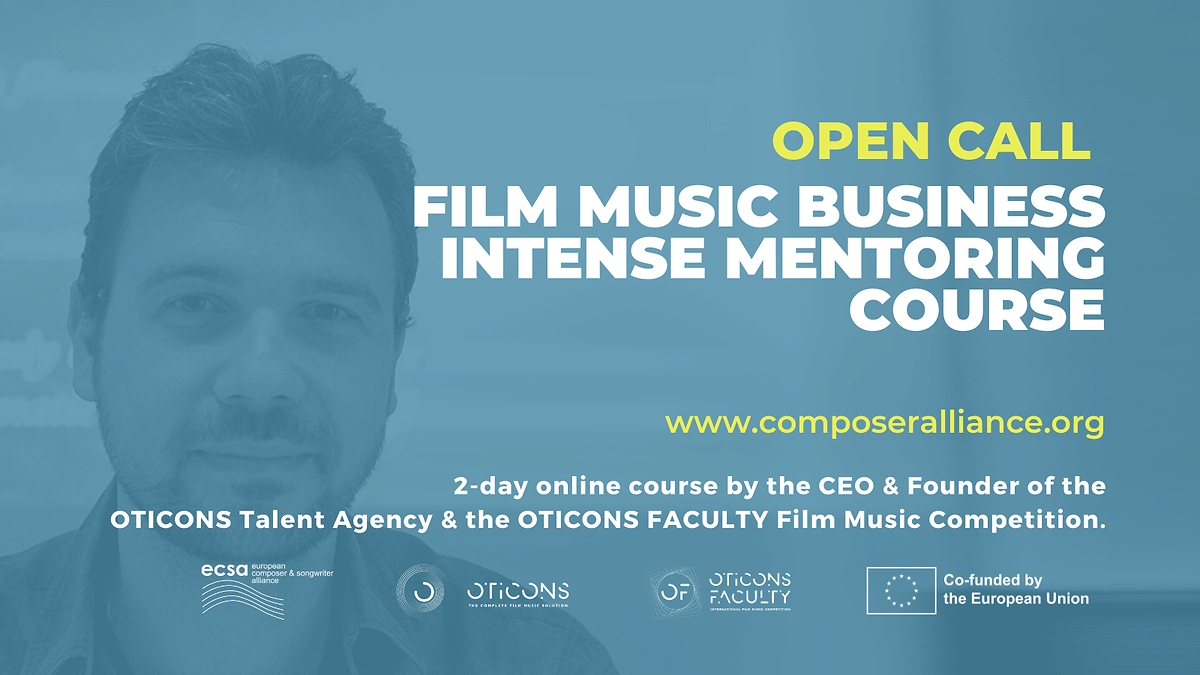 After various successful previous editions, ECSA is partnering up again with OTICONS Film Composers Agency. Oticons Talent Agency operates globally by representing nearly 30 composers from all over the world and specialises in facilitating international co-productions. Oticons and ECSA present: the "Film Music Business Career Mentoring for European Film Composers"; a 2-day mentoring course performed by George Christopoulos (Founder & CEO of OTICONS) for one max. two lucky winners. The course will offer customised career advice and industry insights, to help its winner carve a realistic, efficient and successful career path as film composer.

In order to select the film composer(s) that are going to be awarded this opportunity, ECSA has decided to launch this open call. So if you are a film composer who seeks knowledge on how things work in the entertainment industry, from networking and pitching to contracts and music publishing, you should definitely participate in the open call by filling in the form below.

You are required to provide us with your CV (in PDF format), some links to your website(s) and socials, and an online private playlist (preferably on SoundCloud, Disco, Dropbox or ReelCrafter) of max. four or your compositions that you consider your best. Approach it as a demo playlist that you would send to a European filmmaker to present yourself and your music.

The call will run until 15 August. After this date, ECSA will inform the winner(s) by email and announce the news on its social media pages. The mentoring courses will take place in the second half of September.

This open call is reserved to all European composers.

List of countries included:
Albania, Andorra, Armenia, Austria, Azerbaijan, Belarus, Belgium, Bosnia and Herzegovina, Bulgaria, Croatia, Republic of Cyprus, Czech Republic, Denmark, Estonia, Finland, France, Georgia, Germany, Greece, Hungary, Iceland, Ireland, Italy, Kosovo, Latvia, Liechtenstein, Lithuania, Luxembourg, Malta, Moldova, Monaco, Montenegro, Netherlands, North Macedonia, Norway, Poland, Portugal, Romania, Russia, San Marino, Serbia, Slovakia, Slovenia, Spain, Sweden, Switzerland, Turkey, Ukraine and the United Kingdom.
This programme is made possible with the support of the Creative Europe programme of the European Union.