News from ECSA - August edition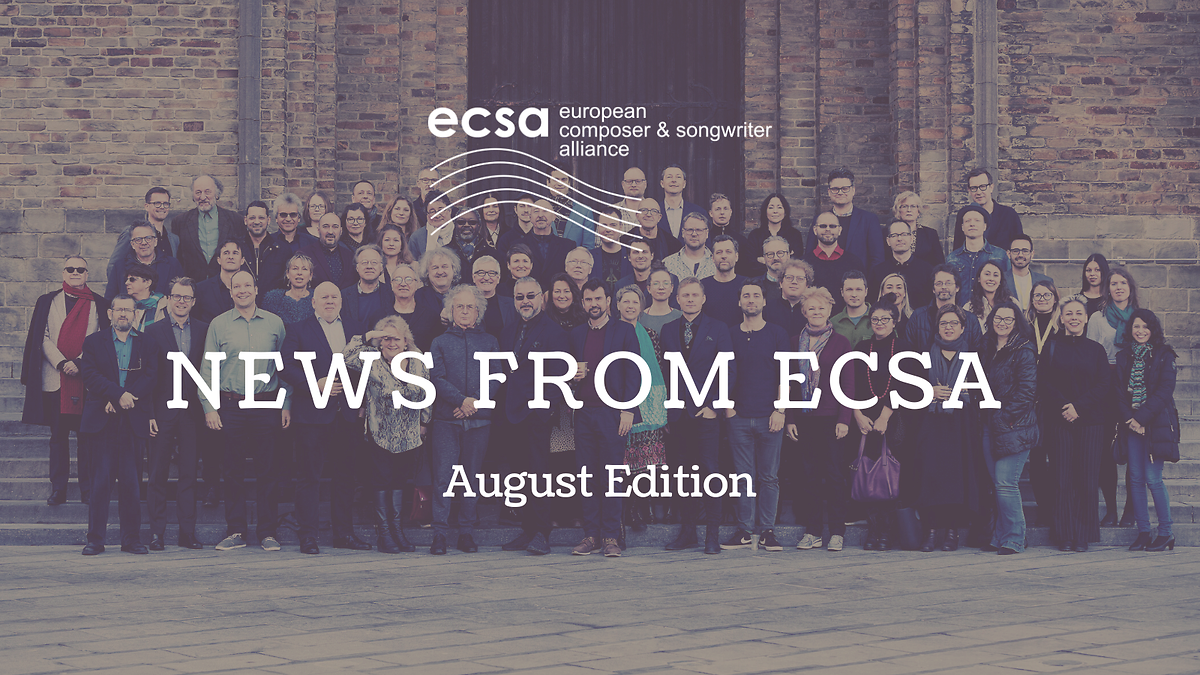 ADVOCACY
#PaySongwriters campaign continues in Finland
In November 2021, ECSA published the Songwriters' Fee & Master Point Guidelines, with the goal of raising awareness on songwriters' remuneration and aiming to share new good practices that would ensure music writers are fairly compensated for their work. Similar discussions have echoed all over Europe and particularly in Finland where ECSA Member: Suomen Musiikintekijät - Finnish Music Creators (FMC) has strongly campaigned for the fair remuneration of songwriters (#paysongwriters). Dive into the topic by watching this online talk featuring Tobias Stenkjær, Helienne Lindvall & Lumi Ollila. FMC's efforts on the matter have also generated interest by the media, see here the recent tabloid magazine article.



ECSA's President speaks at ALCAM's 10th anniversary
On 17th August, ECSA's President Helienne Lindvall gave an online speech on the occasion of the Alianza Latinoamericana de Compositores y Autores de Música's 10th anniversary taking place in São Paulo, Brazil. "I'm encouraged that ALCAM and ECSA share so many objectives and I am very much looking forward to our future cooperation to face the many common challenges that composers and songwriters face on a global scale. We all know that music majors and digital platforms are acting globally, and how important it is that we music authors are united in defending and promoting our rights in a global manner – especially at this crucial point when rules and laws are being established and drawn up when it comes to the use of our music in new innovative ways." ECSA very much looks forward to pursuing the collaboration with ALCAM, in promoting the value of authors' rights and fair remuneration for music authors in all regions of the world.
For more information, click here.
CULTURAL ACTIVITIES
ECCO - System: Calls for proposals
The deadlines for submission of the ECCO-System grants are fast approaching and we are still waiting for submission of concert proposals and/or applications to the Call for Jury. The calls are reserved to all ECSA members representing contemporary music authors.
Each call contains an online form to apply and various requirements to be fulfilled. Please check all specifications and guidelines for submissions within the two calls below :
Call for proposals (deadline: 19 September 2022 – 12:00 PM (CEST))
Call for Jury (deadline: 8 September 2022 – 12:00 PM (CEST))
An online information session will take place on Monday 5 September 2022 from 3:00 to 5:00 PM (CEST) in the presence of members of the ECCO Working Group. In order to attend the session, please remember to register in advance.
Only one month to the Camille Awards in Split, Croatia
This year the Camille Awards - European Film Composer Awards - will take place in Split, Croatia on 27th of September at the Hrvatski Dom Split. We will celebrate and honour composers in three categories: "Best Film Score", "Best Score for a Feature Documentary" and "Best Original Music for a Drama Series". ECSA will also present the Lifetime Achievement Award to one of the greatest Croatian, European and world renowned composers of film, theatre and TV music: Alfi Kabiljo.
During the award ceremony, the nominated scores will be performed live by the FAME's Studio Orchestra Music Recording Company in collaboration with the young musicians from the FAME'S European Orchestral Performing Institute. Check out this year's nominees and jury information here.
MEMBER'S NEWS
LOOP Festival: Forum de la Création Musicale
On its 20th anniversary, ECSA's Belgian Member Forum des Compositeurs becomes: le Forum de la Création Musicale (FCM). The change in the name of the association is meant to reflect the diversity of its members but also of the activities which shape its impact. From 12th till 18th September, the FCM organises the LOOP Festival, which is meant to present an exhaustive overview of contemporary musical news in Belgium without trying to identify a particular theme, which would reduce the range of proposals and the desire to experiment with the artists who perform there. Check out the programme of the festival here.
CALL FOR SUBMISSIONS: Nordic Film Music Days 2023
The Nordic Film Music Days are pleased to announce the call for submissions for the 2023 HARPA Nordic Film Composers Award. They are asking all composers working in the Nordic countries who are members of the national Nordic collecting society to submit their best Film & TV Scores. The composition must be for a narrative feature, documentary or TV-series released between July 21st, 2021 and July 21st, 2022. Submission deadline is October 1st. Please find here the submission link.
Nordic Popular Author's Meeting hosted by Suomen Musiikintekijät
Last week, some of ECSA's Nordic members gathered for the Nordic Popular Author's Union Meeting. The event was hosted by ECSA Member Suomen Musiikintekijät.
The NPU consists of various author organisations in the Nordic countries: Suomen Musiikintekijät (Finland), Skap (Sweden), Autor / Komponister og Sangskrivere (Denmark), DPA (Denmark), FTT (Iceland). The organisations gave each other updates on the countries' work and priorities. There was a particular focus on the countries' efforts with diversity and inclusion, as well as the joint fight for proper remuneration with the increase of streaming practices.
SKAP: The Node
During the last few years, ECSA Swedish member Skap has been key in initiating "The Node", Stockholm's new space and enabler for contemporary and next generation music creators alike. The Node consists of 15 studios and practising rooms as well as shared floors with co-working spaces and meeting rooms, which will be made available to all of Stockholms new and established creators. The Node is due to open progressively in 2023–2024.

Skap's Chairman Alfons Karabuda, who has been deeply involved in the project and also chairs The Node's board where he sees to it that Skap's investment is used well:
"With The Node, Skap is not only contributing in gathering Swedish music life but also to putting the music and creators at the steering wheel in the fast paced environment the music business has become. We will also work hard to bring in creators who haven't traditionally felt part of the system and together with them, we will build a platform that doesn't just throw around words like diversity and inclusion, but actually creates it."
Find out more.
WHAT ELSE IS HAPPENING ?
World Soundtrack Awards 2022
The 22nd edition of the World Soundtrack Awards has revealed this year's nominations and presented the nominees. The nominations include both established and emerging talents in 3 categories: Film Composer of the Year, Television Composer of the Year and Best Original Song. Among the nominees are three composers who scored nominations in two different categories: Nicholas Britell, Daniel Hart and last year's Film Composer of the Year Daniel Pemberton. Music from Mark Isham (guest of honour), Bruno Coulais (Lifetime Achievement Award) and Nainita Desai (Discovery of the Year 2021) will be performed at the ceremony. Check out the list of nominees here.
The Awards will take place on 22nd October in Concert Hall of Music Centre De Bijloke in Ghent.
Keychange Open call : 1 month to go
Apply to be part of the Keychange participant programme in 2023! Each year, Keychange recruits women and gender minority Artists and Innovators to take part in a year-long programme of development. If you are selected to be part of the Keychange participant programme, you will join an exceptional network of women and gender minority artists and innovators. Applications close on 28th September 2022. 8 participants will be selected from Canada. 6 participants will be selected in each of Keychange's European country partners. If you are selected, your participation will start in January 2023 and will launch with a full-network meet-up in Brussels in February 2023.