News from ECSA - December edition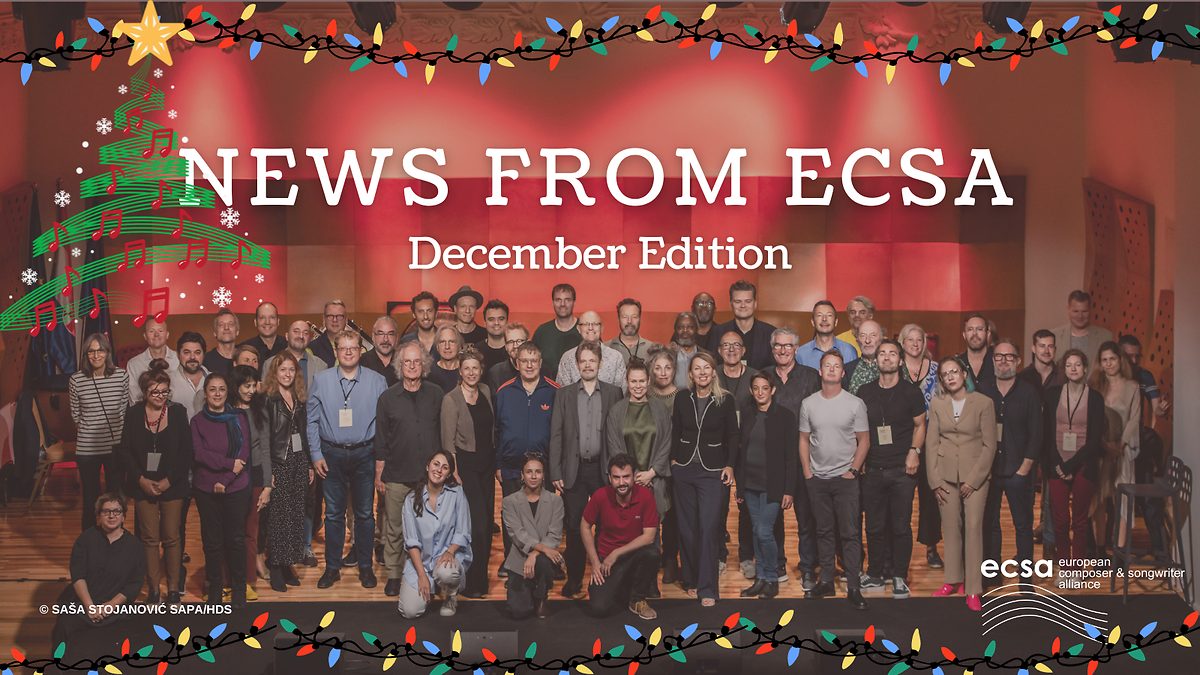 Season's greetings from ECSA
On behalf of the ECSA team, we would like to wish you a joyous holiday season and a peaceful and prosperous new year. We hope you enjoy some great, magical holidays and let the new 2023 be full of inspiring meetings, fruitful events and unforgettable memories.
Advocacy
Capacity Triangle webinar on 'The needs of the Ukrainian cultural sector: How can Ukrainian artists be supported?'
On 13 December 2022, ECSA organised a Capacity Triangle webinar on the needs of the Ukrainian cultural sector. Several speakers and participants discussed the concrete challenges that Ukrainian creators face today, and the existing support programmes.
Learn more about the webinar and speakers on our website. A recording of the webinar is available here.
ECSA panels at Eurosonic Festival 2023
On 20 January 2023, ECSA will host two panels at Eurosonic Noorderslag Festival (ESNS) 2023 in Groningen, Netherlands. The first panel, "The Good, the Bad, and the Ugly: All you need to know about composer's contracts and buyouts" will cover contractual practices, including the threats of buyouts, and their presence in Europe. The panel features Sarah Glennane (Screen Composers Guild Ireland), Guido Heeneman (BCMM), and Rutger van Rompaey (Buma/Stemra). ECSA President Helienne Lindvall serves as moderator.

Moreover, ECSA hosts a second panel: "Creating a safe working environment in the music industry". How do we fight sexism, racism and toxic power dynamics? Panellists include Rebecca Ferguson (Ivors Academy), Delphine Ciampi-Ellis (Union Nationale des Auteurs et Compositeurs), Arriën Molema (BAM!), and Sarah Glennane (Screen Composers Guild Ireland). Aafke Romeijn moderates the panel.
Join us! ECSA at NFMD 365: Panel on buy-out contracts
The Nordic Film Music Days organise a series of seminars: NFMD 365. ECSA Board member Anselm Kreuzer, ECSA Secretary General Marc du Moulin, and KODA Senior Legal Advisor Kasper Lindhardt will participate in the online seminar "Buy-outs: What are they and how do they affect you?" on 24 January from 17:00 to 18:00. They will speak about what buy-outs are, how they affect composers, and what is on the EU agenda in this regard. Sign up here, and learn more about the festival here.
Support Ukraine: #AECforUkraine fundraising campaign
The Association Européenne des Conservatoires, Académies de Musique et Musikhochschulen (AEC) launched the #AECforUkraine donation campaign for its member institutions in Ukraine. The ultimate objective of the campaign is to provide power generators and other equipment to Ukrainian Music Higher Education Institutions so that they may become as autonomous as possible from external energy and heating systems. Learn more here.
Commissioner Gabriel exchanges with Members of the European Parliament's committee on Culture and Education (CULT)
On 30 November, the CULT Committee held a Structured dialogue with Commissioner Mariya Gabriel on priority issues in the field of culture. Answering to MEP Tomasz Frankowski, she stressed that a more regular and direct dialogue between the European Commission and music stakeholders must be established to effectively address the challenges faced by the music sector today. She announced that a series of roundtable discussions will be organised over the course of the next year, as well as an adhoc initiative to make sure that music is always at the top of the Commission's agenda. Photo by © European Union, 2021
ECSA President at Trondheim Calling festival
Music and conference festival Trondheim Calling will take place in Trondheim, Norway from 9 to 11 February 2023. ECSA President Helienne Lindvall will participate in the discussion My royalties got "lost in translation". The panellists will share their expertise on what happens when music crosses Norwegian borders, and what you have to watch out for in the pursuit of all the income you are entitled to. Find out more here.
Cultural activities
ECSA at Cyprus Culture Summit: Music 2022
The Cyprus Culture Summit: Music 2022, organised in parallel with the 9th edition of the Cyprus Jazz & World Music Showcase, took place from 8 to 11 December 2022 in Limassol. ECSA Vice-President Zahra Mani participated in two panel discussions: 'Towards a more inclusive music sector' and 'Making the case for culture: data collection in the sector'. More information can be found here.
Nordic Film Music Days 2023: nominees announced!
The 15th HARPA Nordic Film Composers Award nominees have been announced! The Nordic Film Music Days 2023 will take place in Berlin from 18 to 19 February 2023. Check out the nominees and learn more about the festival here.

Members news
Ivors 2023 call for entries is open
The Ivors 2023 awards entries are now open. Each year, the Ivor Novello Awards are presented to recognise and celebrate creative excellence by songwriters and screen composers in the UK. Entries are open until 20 January 2022. To be eligible, music must have been released or broadcasted in the UK in 2022. More on eligibility criteria, rules and guidelines here.
What else?
EFA Arts Festivals Summit in Peralada
The European Festivals Association, together with Festival Castell de Peralada, organises The Arts Festivals Summit from 23 to 26 April 2023 in Peralada, Girona, Spain. Here, 200 delegates will be welcomed to connect and work together on some key issues related to the role of the arts, festivals and festival stakeholders in society. More about the summit here.
Creative Europe call for cooperation projects is open
With a budget of €60 million, the Creative Europe call for cooperation projects will support projects to carry out a broad spectrum of activities and initiatives. These initiatives should involve artists and stakeholders that are active in different cultural and creative sectors, in order to increase the creation and circulation of European artistic content. The deadline for applications is 23 February 2023. Learn more here.