News from ECSA -November edition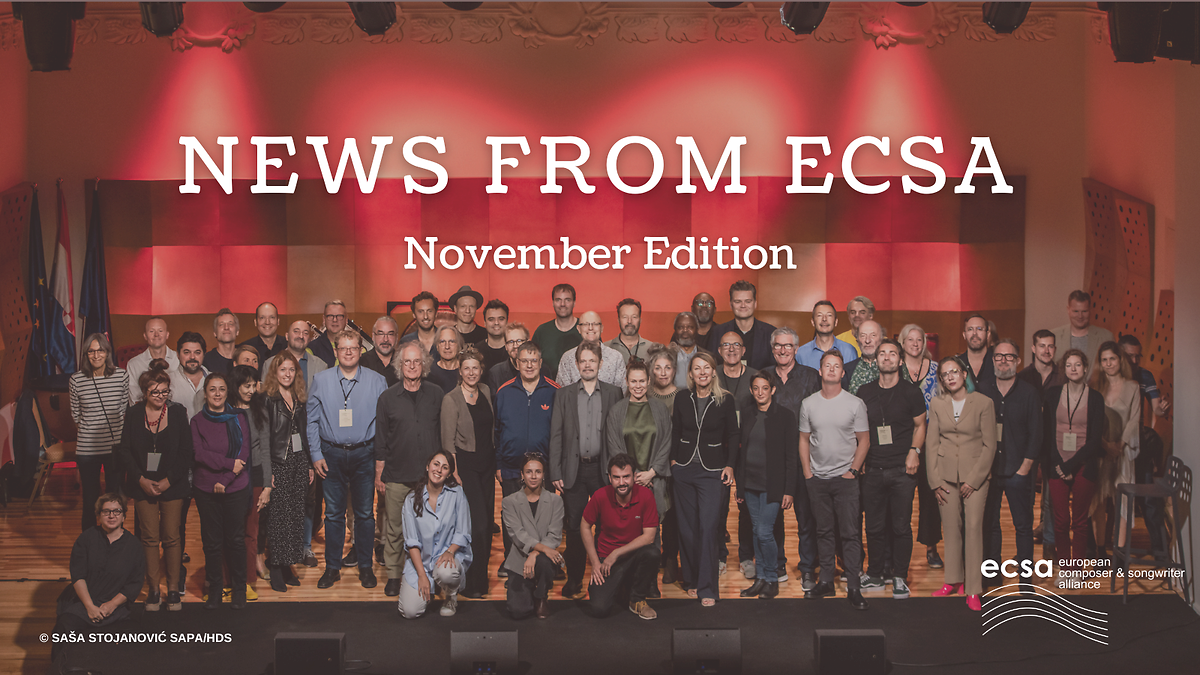 ADVOCACY
ECSA - GESAC roundtable discussion on buy-out contracts at the European Parliament
ECSA and GESAC organised a panel discussion on buy-out contracts at the European Parliament on 8 November 2022, hosted by MEP Ibán García del Blanco. The panel was moderated by ECSA President Helienne Lindvall and featured MEPs Sabine Verheyen and Billy Kelleher, as well as composers Anselm Kreuzer, Manel Santisteban, Eleanor McEvoy, and Ray Harman. Before and after the event, a delegation of ECSA members met with several European Commission officials to further highlight the issues related to buy-out contracts.
Find ECSA and GESAC's joint press release here. Additionally, find a video on this link of Helienne Lindvall talking about the issue of buy-outs, recorded in the European Parliament.
The event and press release was covered in several European media outlets, such as Digital Music News, Deadline and Euronews.

Flashback on World Soundtrack Awards Industry Days 2022
In the framework of the World Soundtrack Awards in Ghent, ECSA co-organised the panel "Buy-outs and other unjust contractual practices: What possibilities for the Belgian composer?" on 20 October. Anselm Kreuzer (Composers Club, ECSA board member), Hans Helewaut (Belgian Screen Composers Guild), Luc Gulinck (De Muziekgilde), and ECSA Secretary General Marc du Moulin discussed the detrimental impact of buy-out contracts and potential solutions to prevent them. Watch the recording of the panel here.
ECSA at the Recreating Europe Conference in Cyprus
ECSA took part in the Recreating Europe Conference, ''Rethinking Copyright Flexibilities', in Nicosia, Cyprus from 31 October to 1 November. ECSA Secretary General Marc du Moulin participated in the panel 'Towards a New Equilibrium in EU Copyright Law? Perspective for Policy Makers, the Judiciary and Stakeholders', and highlighted the contractual challenges that composers face, including buy-out contracts. Find more information on the conference here.
Online Lounge: Diversity and Inclusion in the music industry
On 22 November, ECSA organised an online lounge to raise awareness on diversity and inclusion in the music industry. The panel featured Delphine Ciampi-Ellis (UNAC), Irina Karamarkovic (Migrants' Advisory Council, City of Graz, Austria) and Rebecca Ferguson (Ivors Academy) and was moderated by EFA Secretary General Kathrin Deventer (European Festivals Association). More information here.
Capacity Triangle on Ukraine
On 13 December, ECSA organises a Capacity Triangle webinar in which we will discuss the current situation of the Ukrainian cultural sector, present several supportive programmes and will have a chance to listen to the Ukrainian cultural sector representatives. More information and registration here.
ECSA President and Secretary General's meeting in Paris
On 9 November, ECSA President Helienne Lindvall and Secretary General Marc Du Moulin met with French ECSA members in Paris to discuss ECSA's priorities and the main challenges of music authors in France. Moreover, ECSA met with Cécile Rap-Veber (Chief Executive Officer, SACEM) and David El Sayegh (Deputy Chief Executive Officer, SACEM), as well as with Gadi Oron (Director-General, CISAC) to discuss how to defend and promote the rights of music authors.
ECSA President Helienne Lindvall at Artist Rights' Symposium
On 15 November ECSA President Helienne Lindvall participated in the discussion on the importance of metadata at the Artist Rights' Symposium that took place at the University of Georgia in Athens. During a day-long symposium songwriters, lawyers and other experts discussed better ways for the music industry to represent songwriters, to address the issues of metadata inaccuracies that are often incomplete or incorrect, causing misallocation of songwriters' royalties, and to explain the variations in rate setting across different countries. Learn more about the event here.
CULTURAL ACTIVITIES
ECCO Concert 2022
On 17 November, ECSA organised the 17th edition of the European Contemporary Composers Orchestra (ECCO) Concert at Le Senghor in Brussels. The selected pieces were performed by the talented STYX Ensemble. ECSA would like to thank all attendants and everyone involved in the organisation of what has been a great evening. Find out more about the ECCO Concert here.
Cyprus Cultural Summit : Music 2022
The Organization for European Programmes and Cultural Relations, in its capacity as the Creative Europe Desk Cyprus, organises the "Cyprus Culture Summit: Music 2022" from 8-11 December. This is a parallel event of the 9th edition of the Cyprus Jazz & World Music Showcase. During the Summit, attendees will speak about how to jointly overcome the challenges that the sector is facing today. ECSA's Vice-President Zahra Mani will participate in the panels "Towards a more inclusive music sector" and "Making the case for culture - data collection in the sector". The Cultural Summit will be broadcasted online. More information here.
MEMBERS NEWS
Austrian "Fair pay for cultural work" panel hosted by IG Kultur
All German speaking members are kindly invited to join the online panel 'Fair Pay for Cultural Work' of Austrian cultural umbrella organisation IG Kultur. The panel will take place online on 14 December, 2022, at 13:00 and welcome, among others, ECSA Vice-President Zahra Mani as a speaker. Registrations and more information here.
10th International Copyright Conference, Initiative Urheberrecht
The 10th International Copyright Conference of Initiative Urheberrecht took place on 21 November 2022, at the Academy of Arts in Berlin. ECSA Member Anselm Kreuzer participated in the panel '20 Years of Copyright Law: 20 Years 20 Euros''. Additionally, ECSA Member Micki Meuser contributed to the panel 'Streaming and Digital Economy''.
More information and a recording of the conference, held in German, here.
Ivors Composers Awards
On 15 November, the Ivors Composers Awards ceremony took place at the British Museum in London. The awards celebrate creative excellence in contemporary classical, jazz and sound arts. Find out more on the winners of the 2022 edition of the Awards here.
WHAT ELSE?
ECSA is hiring!
ECSA is looking for a Communications Intern and s European Affairs Policy Intern, for a 5-month period, starting in February 2023. Join our team in Brussels and help us defend the rights of composers and songwriters all over Europe!
Please find more details here.
"I am your border": a song for Ukraine, with Ukraine
"I am your border", a song by various classical musicians from Kyiv and Leipzig, was released two weeks ago. The song ought to inspire individuals to support Ukrainian musicians, who have lost the vast majority of incomes as a result of Russia's war. Find more information about the song and the fundraising campaign here.