News from ECSA - September edition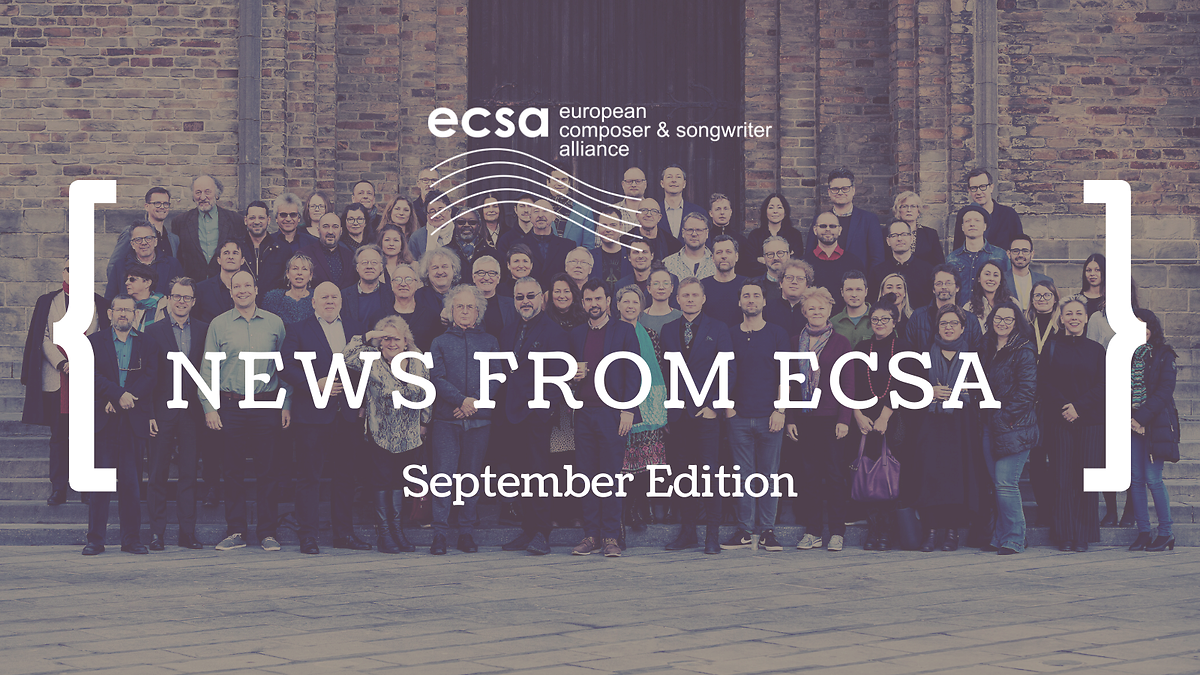 ADVOCACY
Two European Parliament's reports put the spotlight on buy-out contracts and streaming services
On 27th September 2021, the European Parliament's Culture and Education committee adopted two reports by an overwhelming majority: Mrs. Semedo report on "the situation of artists and the cultural recovery in the EU" and Mrs. Melbarde's report on "Europe's Media in the Digital Decade: An Action Plan to Support Recovery and Transformation". Both reports express strong concerns against buy-out contracts and ask the European Commission to take action to prevent those coercive practices. MEPs also ask the European Commission to assess the role and impact of streaming services - both VOD platforms and music streaming services - in particular on creators' remuneration and cultural diversity (including algorithms and playlists). They also call for EU Member States to speed up the implementation of the Copyright Directive and "ensure access to collective bargaining for all solo-self-employed, including artists and cultural workers". ECSA welcomes those reports which echo our Alliance's advocacy objectives and activities in the latest months (see notably here, here and here). The European Parliament is now expected to adopt those reports in the Plenary session in mid-October.
ECSA French Members SNAC, UCMF and UNAC publish a study on the detrimental impact of coercive publishing on audiovisual composers
ECSA's French Members, SNAC (Syndicat National des Auteurs et des Compositeurs), UCMF (Union des Compositeurs de Musiques de Films), and UNAC (Union Nationale des Auteurs et Compositeurs) have published in September 2021 a study on coercive publishing for audiovisual composers, based on an extensive survey conducted among composers working in cinema, TV drama, TV series, documentaries, short films as well as advertising. This study highlights that 55% of the respondents are regularly or systematically confronted with coercive practices, where producers and broadcasters require them to transfer their publishing rights without compensation and without fulfilling their publishing obligations. It also underlines that coercive publishing benefits from public subsidies and leads to an unfair competition with virtuous publishers. SNAC, UCMF and UNAC finally call on French policy makers to address this issue and adopt legal measures to prevent coercive publishing. The study is available here (in French) and you can watch here a roundtable on recommendations for minimum tariffs and on the study organised at le Forum Itinérant de la Musique à l'image (FIMI) in La Rochelle (France) on 16th September 2021.
ECSA supports the Credits Due Campaign
ECSA is proud to support the Credits Due Initiative! The campaign was launched by Björn Ulvaeus at the 2021 Ivor Novello awards and comes from a collaboration between ECSA's UK Member, the Ivors Academy and the Music Rights Awareness Foundation (MRAF), of which Ulvaeus is a co-founder. Too often songs & contributors aren't identified in recordings, preventing music creators to get credit or paid for their works. Credits Due has the aim of ensuring that "complete and accurate song metadata is attached to all recordings at the point of creation. ECSA calls on all music stakeholders and all our members to support Credits Due and take one more step towards finally giving creators the financial recognition they deserve.
MEMBERS NEWS
SoundTrack_Zürich 02
The second edition of SoundTrack_Zurich, a new Swiss and European film music conference, is taking place during the 17th Zurich Film Festival in 2021. The conference is organised by SMECA (Swiss Media Composers Association), curated by Michael Aust (SoundTrack_Cologne) and organized in cooperation with FFM (Forum Filmmusik), ZHdK (Zurich University of Arts) and SoundTrack_Cologne. The primary goal of SoundTrack_Zurich is to present the work of Swiss and European film composers at eye level with their international colleagues. Guest of honor was Mychael Danna (Academy Award for 'Life of Pi'), who is receiving the Career Achievement Award at the Zurich Film Festival. Other renowned composers at SoundTrack_Zurich included Volker Bertelmann aka Hauschka ('Monte Veritá'), Anne-Sophie Versnaeyen ('OSS 117: Alerte rouge en Afrique Noire'), Lele Marchitelli ('The Young Pope'/'The New Pope'), Dominik Scherrer ('The Serpent') and Diego Baldenweg with Nora Baldenweg & Lionel Baldenweg
HARPA AWARDS: Call for scores
The Nordic Film Music Days event is asking composers working in the Nordic countries and being a member of the national collecting society to submit their best Film & TV Scores for HARPA Nordic Film Composers Award 2022. The composition must be for a narrative feature, documentary or TV-series released between July 21st, 2020 and July 21st, 2021. The submission deadline is October 1st. Click here for submission info.
#IvorsWeek from the Ivors Academy
ECSA's UK Member the Ivors Academy presented for the first time the "Ivors Week", which took place on Monday 20th – Friday 24th September 2021. Ivors Week is the UK's week-long celebration of songwriting and composing, supporting The Ivors Academy Trust. A wide range of events took place to bring the industry together, build songwriters' skills and raise awareness of the Trust. The 66th presentation of Ivor Novello Awards at The Ivors with Apple Music took place on Tuesday 21st September at the Grosvenor House, London, presented by Paul Gambaccini. The Ivors Academy Trust also presented the David Ferguson Lecture - Music & The Climate Emergency - with Brian Eno, Prof Brian Cox, Dr Tamsin Edwards and Hannah Peel.
ACMF in Venice
On 8th September, ECSA' Italian Member: ACMF, the Association of Composers of Film Music was present at the 18th edition of "Giornate degli Autori" in the frame of the Venice Film Festival. Four years after its creation, the organisation discussed the process that marked its birth, the artistic and institutional activities carried out to date and those planned for the future, with a view to the definitive recognition of the fundamental artistic role of a little-known author, even among professionals. The panel featured: Pivio (ACMF President) and Alessandro Molinari, Pasquale Catalano and Stefano Caprioli (Board of Directors).
Alfons Karabuda on David Ferguson's legacy
During the Ivors Week, the Ivors Academy held the David Ferguson lecture, exploring music and climate change. This week, ECSA's President and composer Alfons Karabuda reflected on David's legacy: "He had a vision. He made us all part of making it come true, and we, the authors and performers of music, all have a reason to be grateful for that. The best way is, of course, continuing the work of protecting intellectual property rights in music compositions and songs, where we, the authors, are at the core of the value chain but still struggling for fair remuneration and credit when our music is being used."
OTHER
WOMEX
WOMEX – Worldwide Music Expo – is the most international music meeting in the world and the biggest conference of the global music scene, featuring a trade fair, talks, films and showcase concerts. WOMEX and the many delegates in its community aim to support and strengthen the role of culture around the globe and to spread its values through the nurturing and promotion of creativity and art. WOMEX 21 will take place in Porto, Portugal from 27th-31st October 2021. Register now.
International Composition Competition Harelbeke for Wind Band
The International Composition Competition Harelbeke is a competition for composers of all ages, from all over the world. The competition stimulates them to apply the achievements of contemporary music in the repertoire for concert bands. Unique is the fact that these works will also be performed and recorded live by the wind orchestra Koninklijk Harmonieorkest Vooruit Harelbeke. Contemporary music, more specifically in the sector of music for wind and percussion instruments, deserves permanent backing. This competition contributes to this goal. More information & application here.